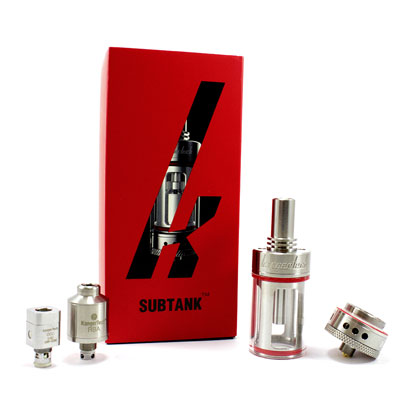 Kangertech is one such brand that has consistently maintained its popularity by launching innovative coil tanks and vapes every now and then. However, recently it came up with a product that is bound to revolutionize the concept of vaping altogether. We are talking about Kangertech's new sub-tank, the latest replaceable coil tank having hybrid features. Yes you heard it right, this newly launched sub-tank from the house of Kangertech gives its user the freedom to easily switch between the re-buildable atomizer head and Kanger's original organic cotton coil heads i.e. OCC. Simply put, this sub tank can be used as a clearomizer and an RBA with much ease.
Apart from having all the necessary features of a sub-tank, this product features a brand new innovation in the form of organic cotton coils, also known as OCC. The presence organic cotton coils in this sub-tank lets one have an unmatchable vaping experience apart from offering great flavor. There is an easy to switch low resistance atomizer along with OCC that are made up of Japanese cotton having unique square shape. The uniqueness of Japanese cotton doesn't just restrict to their square shape, this cotton gives the coil of the sub-tank a longer life, larger heating section as compared to normal coils and a taste that is simple pure and unmatchable.
The sub-tank by Kangertech has an RBA assembly that can be taken out with the coil, thereby making it a Re-buildable tank atomizer. Thus, this product offers you complete freedom to either use pre-installed OCC coils made up of superior Japanese cotton or new Kanger coils if you like building own coils for enhancing your vaping experience. The sub-tank is ideally 25mm wide and can easily fit devices up to 20-22 mm, thereby offering ample place to you for fitting in your own coils and wicks. If building or re-building coils is something that interests you, Kangertech's sub-tank might just be the right product for you as it comes with 4-pre built RBA coils along with 2 coils that are already installed in the tank. So, all you need to do after buying this sub-tank is get yourself some wire and wick and start innovating with the coils that suit your needs.
However, if you don't wish to use the OCC or don't feel like re-building your own coils, this sub-tank still might prove extremely useful for you. Yes friends, this sub-tank from Kangertech is 100% compatible with the older versions of dual and upgraded coils offered by Kangertech as well. Apart from having a beautiful glass tank, coils and RBA, this sub-tank from Kangertech comes with a number of useful devices, some of which are enlisted below for quick reference.
The Kangertech sub-tank kit contains:
1- Sub-tank
OCC- 1 of them being 0.5 sub-ohm and 1 being 1.2 ohm
4- Pre-built RBA coils, 1 RBA tip connector and 1 RBA Base
1- pad Japanese cotton for building coils and wicks on your own
2 screws, 1 screw driver, 1 beauty ring and 1 manual
All in all, Kangertech sub-tank is one of its own kind product in the market that is aimed to create a positive difference in your vaping experience along with giving you a great room to experiment with your clearomizer.