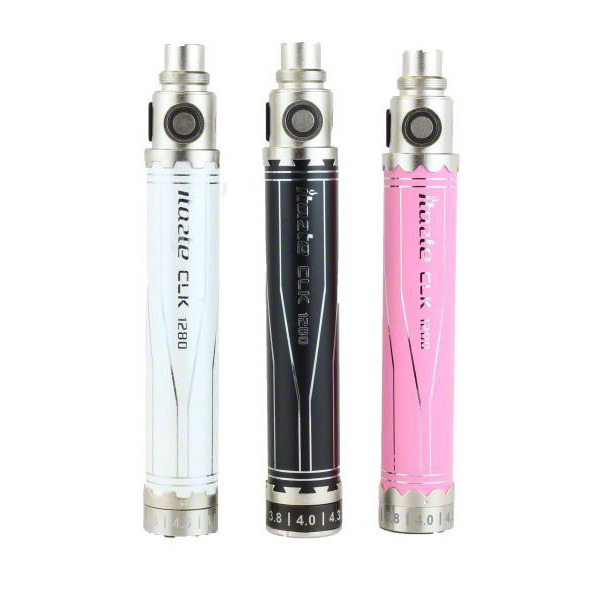 Energy is a factor which drives many aspects of life. Human gathers energy to perform the tasks effectively and so are the devices which need energy to function properly. When our mobiles, tabs and laptops are charged whole day to give the best output then why not the cigarette starter? Innokin has introduced an advanced electronic cigarette starter that has a battery which can be charged.
Unlike other starters available in the market iTaste CLK! 1280 do not come with a replaceable battery. It has a battery of 1280mAh which gets charged using a USB port. So even if you are not having its charger with you then you can get it charged by connecting it through any USB port.
Voltage: With an adjustable voltage range of 3.5 to 5 volts this device can save the power when not required. If you prefer low flame of vapor then you can lower down its voltage with the help of wheel on the base of this device. While you are adjusting the wheel you will hear an audible click to confirm the rotation. This will consume less battery if operating on lower voltage and vice versa. And if the battery is running out then its voltage automatically steps down to the lower side to serve for long duration.
Indicators: Just like your Bluetooth and portable devices have an indicator to display the battery percentage this device has colored indicators to show the same. It has green, yellow and red LED lights to display the remaining battery. Green denotes that it is fully charged whereas red denotes low power and yellow is the medium or the half battery reflector. When the battery is fully charged then it stops drawing power from the source and also when it is discharged then it automatically gets off.
Power on and off: It is a device which can prove harmful for the operator if not used properly. Therefore to power on iTaste CLK! 1280 you have to press the start button three times and after it is on you have to hold on the power button to activate the flame. To off its power you have to press the power button again three times. This is because if it is in hand of a child mistakenly then it should not harm the person who is in possession of it. It is advised to power it off when it is not in use or if you are keeping this in your bag or purse or pocket because any mishandling can prove dangerous.
This product is available at very reasonable prices and along with a 30 day guarantee. It is available in three smashing colors namely white, pink and black. So now you can carry your portable cigarette starter anywhere without worrying about its battery. It is highly advanced vaporizer as it gives an indication of every alteration made to it. You can own this intermediary kit to enrich your experience. Even if you are not a smoker then even you can carry this stylish device to offer to others!