The God Mod | E-Cig Mods
Check this out, the almighty God Mod, with more power than almost any other e-cig mods on the market. With a massive 180 watts to boast about, any self respecting vaper should get on their knees and pray to the god e-cig mods. A strong aluminium body ensures that these e-cig mods are durable and long lasting, so that when you are vaping you can feel safe in the knowledge that the mod will be powerful for a very long time. With 180 watts coursing through the body of the God Mod, the strength of vape you get will be like a religious awakening.
Available In A Range of Colours
Available in a range of four colours, silver, red, blue and black, the God Mod is suitable for all e-cig mods users. With it's large LED digital display, the God Mod allows you to be all seeing and all knowing, when it comes to your personal vaping experience, and the output coming from your God Mod. As one of the largest e-cig mods on the market, you'll certainly show your style, and we recommend that anyone with a preference for complete control buy this amazing product.
What's more, as the God Mod accommodates 3 x 18650 batteries, meaning the the length of power you get from these e-cig mods is much longer than others in the range. Imagine just how long you can go without charging your God Mod, with all them batteries!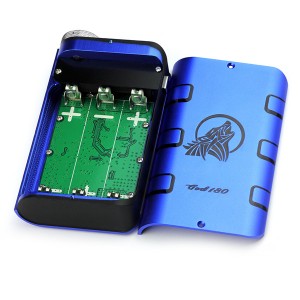 A Whole Lot Of Power
Along with the God Mod, with its powerful battery and 180 watts, you will also receive a smart, black case and all for only £90! This really is the holy father of e-cig mods, and if you give it a go, you be a believer forever!
Why not truly upgrade your e-cig mods today and buy the almighty God Mod? It's easy, all you have to do is order online and we'll get it sent to you straight away. Or you can always call us in store, for more information about the God Mod e-cig mods.