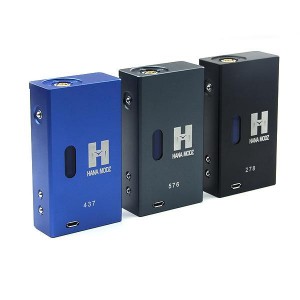 For the sleekest of e-cig mods, we would recommend the DNA 30. With a style that closely resembles a phone case or even a perfume bottle, this modern and forward thinking e-cig mods is one of the most attractive in our range. Although we have hundreds of different kinds of e-cigarette styles, we find that the DNA 30 e-cig mods will make you stand out from the crowd.
When moving on from a starter e-cigarette, onto a more personal vaping experience, you want to have the very best, and the DNA 30 e-cig mods are the best by far. With a removable 18650 battery and micro USB charger, you'll have full power wherever you go. What's more, the DNA 30 e-cig mods come in three different colours, red, blue and black and a variable wattage ranging between 7W and 30W.
Choosing The Right E-Cig Mods For You
Choosing the right e-cig mods for you is really important, and we always advise that you come and try the e-cig mods out before buying. However if you cannot come to visit us in store, you can always buy your e-cig mods over the net. If you order your vaping equipment online today, we can get them sent out to you straight away. What's more, if you are not completely happy with the e-cig mods that we send, you are entitled to a full refund.
Discount Prices
At only £64.99 you won't get the DNA 30 e-cig mods cheaper anywhere else. We are one of the leading distributors of advanced e-cigs in the UK so you can be sure that we will always provide you with the very best service and best procucts, why not get in touch today? Call the shop or make your order of the DNA 30 e-cig mods today.