Thousands of e-Cigarette Liquids
What's better than a weekend? A weekend full of discounts!
If you're a vaper, a regular Fresh Mist customer or you've decided to give quitting a try with the help of an e-cigarette, why not try it this weekend? If you buy any of our products this weekend, you are guaranteed 18% off when you enter WEEKEND18 at the checkout. What could be better than quitting smoking and saving some cash!!
Buying your e-cigs, e-cigarette liquids and mechanical mods online has never been easier, or cheaper! All you have to do is have a browse of our site and choose what you need, to satisfy your vaping needs or to start vaping today. Fresh Mist are the very best distributor of e-cigs and e-cigarette liquids, so why not get in touch.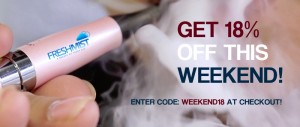 Weekend Offers
We have thousands of e-cigarette liquids to choose from, in different flavours and strengths, so you can choose the exact thing that you need, with an 18% discount from it. What's more, the bigger your order the bigger the discount! Whether you want a tobacco flavour, menthol, sweet or fruity, we have many in stock for your perusal.
What's more, when you come to us to buy e-cigarette liquids, you can be sure that each and every one is healthy, and has been produced here in the UK. We make sure that all our e-cigarette liquids are formulated here in Britain, meaning that we are sure of what they are made from, natural ingredients.
Quote WEEKEND18 For An 18% Discount
So why not save yourself some cash this weekend, and quote WEEKEND18 when you check out online. We have hundreds of e-cigs and thousands of e-cigarette liquids in stock. Or why not give us a call and speak to an adviser.