The BBC have finally confirmed what we have thought for a long time, they said today 'The concern electronic cigarettes are a gateway to smoking might be unfounded' 
Using data from the office of national statistics, the BBC have claimed that fewer than 1 in 300 hundred people who have never smoked currently use e-cigarettes.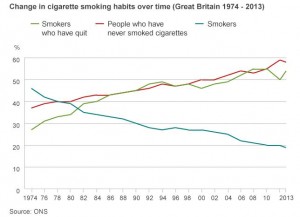 In fact, if anything, the statistics support the rationale that e-cigarettes have caused a fall in the all-round smoking figures.
The BBC said 'From 2016, the Medicines and Healthcare Products Regulatory Agency is expected to license e-cigarettes as a medicine in the UK.' Which means that we're well ahead of the agem when it comes to making sure that Britain is a healthier, smoke-free place.
http://www.bbc.co.uk/news/health-30192181 Please refer to this link for more information from the BBC article.
Or to start your own personal stop smoking journey, whith the help of one of our e-cig mods, why not get in touch?